Ecco i nomi dei Musicisti Premiati al MUSICA ITALIA GRAND PRIZE
CAT. "GRAND PRIZE "
Primo Premio Assoluto FERRARO Mario Rocco – percussioni 98/100
Secondo Premio Quartetto Satén Sax e Bianco Michele Fisarmonica 94/100
Terzo Premio Mubarak Fakizat violino 89/100
Quarto Premio Cristofaro Gianluca pianoforte 84/100
Quinto Premio Hartyani Rodrigues violino e Olivieri Giuseppe 79/100
Sesto Premio Mascia Giovanni pianoforte 74/100
Premio G. Sala ex aequo ai secondi classificati
Premio miglior non residente in Italia
Hartyani Rodrigues violino
Concerto Premio Università Bangkok
Mubarak Fakizat violino
Concerto Premio Teatro di Villa Mazzacorati a Bologna
Gianluca Cristofaro pianoforte
Premio speciale Conservatorio Perosi ad Angelo Giovannitti e Gianluca Cristofaro pianoforte
Concerto Premio in Molise
Giovanni Mascia pianoforte
Premio Miglior Esecuzione brano Bellafronte
Michele Taraborrelli pianoforte
19/05/2023
La Giuria del Musica Italia GP, presieduta dal M°Carlo Balzaretti, ha decretato i finalisti di domani 20 Maggio 2023.
Di seguito i nomi e gli orari di esecuzione.
Ricordiamo che le prove finali si terranno presso il Convitto Nazionale « Mario Pagano » di Campobasso, fatta eccezione per la prova del percussionista che si terra' presso il Conservatorio Perosi di Campobasso nella sala Lualdi.
11:00 Bianco Michele – Fisarmonica
11:25 Oliviero Giuseppe – Sassofono
11:50 Anglani Giacomo – Pianoforte
12:15 Traficante Simone – Tromba
12:40 Hartyani Rodriguez- Violino
13:05 Quartetto Biasotto + 3 – Sassof.
14:15 Ferraro Mario Rocco- Percussioni (Conservatorio Perosi Sala Lualdi)
15:00 Cristofaro Gianluca-Pianoforte
15:25 Apollonio Domenico-Canto
15:50 Choi Minseo – Oboe
16:15 Ferrantini Gaia – Violoncello
16:40 Mubarak Fakizat – Violino
17:05 Tumanyan Sofya-Canto
17:30 Taraborrelli Michele – Pianoforte
17:55 Mascio Giovanni – Pianoforte
*Scarselli Francesco NON passa in finale ma riceve una Menzione Speciale della Giuria e un Concerto Premio offerto dalla Camerata Musicale Sulmonese presso il Teatro Maria Caniglia di Sulmona.
NB: Choi-Ferrantini-Mubarak-Apollonio-Tumanyan sono convocati presso il Conservatorio Perosi alle ore 10:00 per le prove con la pianista.
NB: Oliviero e Traficante sono convocati al Convitto Mario Pagano alle ore 9:30
Complimenti a tutti i concorrenti!
17/05/2023
Cat A – Conservatory students –
Results:
The 98/100 Angelo Giovannitti Prize
II Prize 94/100 Gianluca Cristofaro and Massimiliano Nese ex aequo
III Prize 89/100 Secundo Pietro and Mirate Claudio ex aequo
III Prize 87/100 Mariani Michele and Parillo Angelo
IV Vergalito Lorenzo Award – Cirocco Lorenzo – Duo Brillante – La Fauci Antonina – Masoudi Melika – Tucci/Cornacchione –
V Basilio Bruno Award – Perrone Debora – Quirino Edoardo – Parillo Lorenzo – Vallefuoco Vladimir Maria
VI Bevilacqua Dario Prize – Colardo Jacopo – Saviello Raffaele
Congratulations to all the competitors, according to the whole jury, the musical level of the entire category was very high and it took a lot of effort to draw up a ranking.
Heartfelt thanks to everyone and see you tomorrow with the preliminary rounds of the Grand Prize!
The Artistic Direction
Simone Sala and Paolo Bartolucci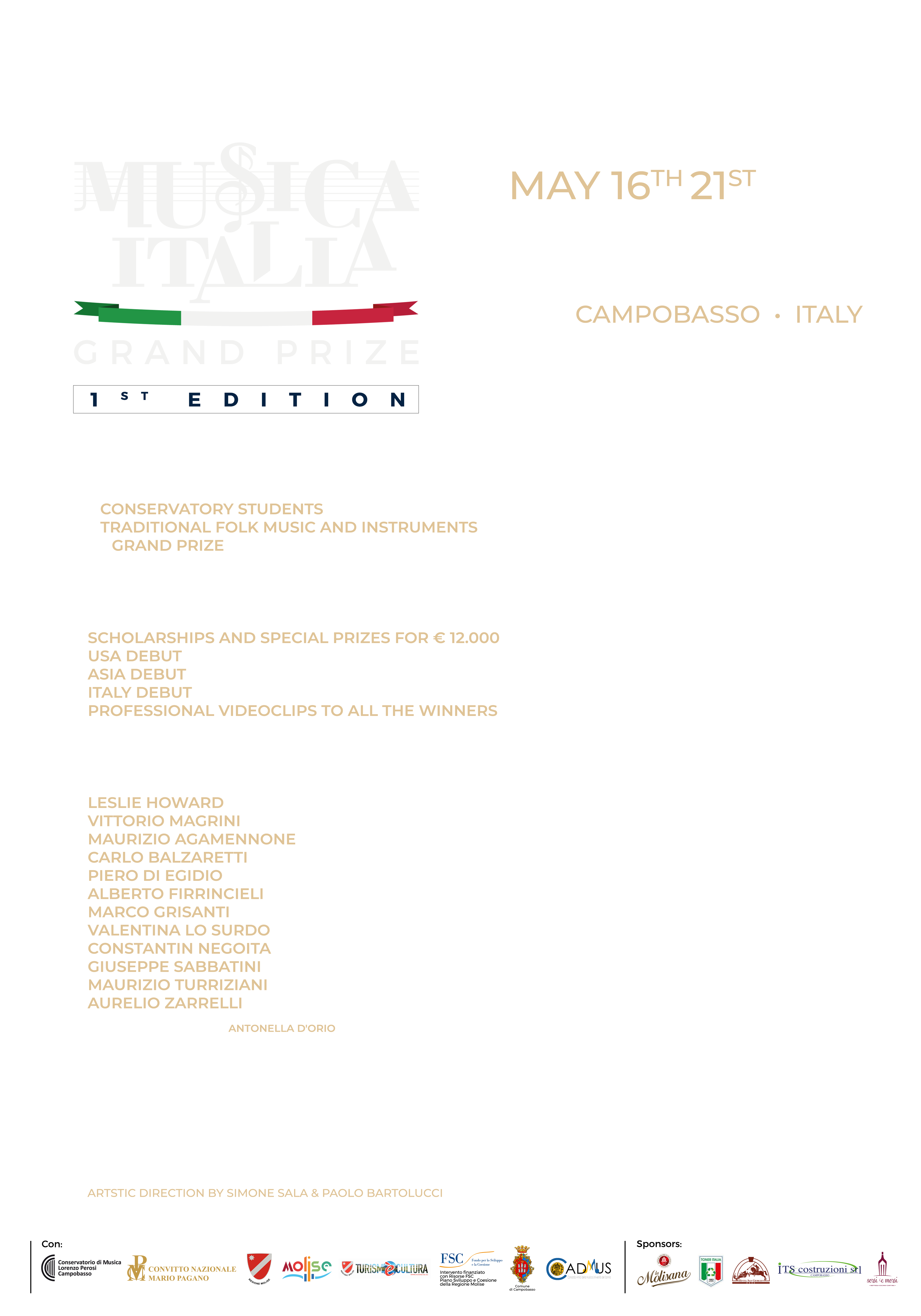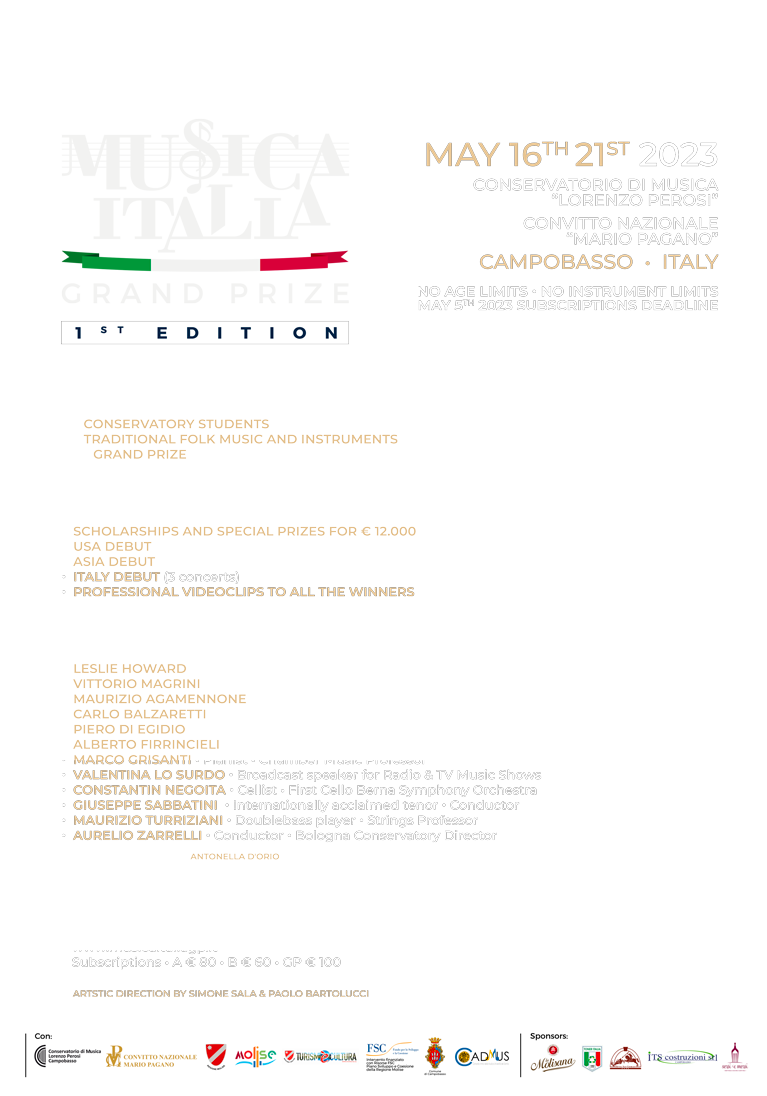 COMPETITORS ARE INVITED TO APPEAR AT LEAST 1 HOUR BEFORE THE START OF THE TEST (2 HOURS FOR THOSE WHO REQUESTED THE ACCOMPANYING PIANIST) at the headquarters of the "L. Perosi" State Conservatory of Music in Campobasso.
Orari inizio convocazione Categoria GP
Orari inizio convocazione Categoria A
Orari inizio convocazione Categoria B